We report the case of a 15-year-old synchronized swimmer who presented with Henoch-Schönlein purpura (also known as anaphylactoid purpura), a small-vessel systemic vasculitis believed to be the most frequent vasculitis in childhood and which mainly affects children and adolescents between the ages of 3 and 15 years. The male-to-female ratio is 2:1. In our patient, involvement was exclusively cutaneous in the form of petechiae, with several outbreaks of dermal lesions. The clinical course was benign and self-limiting and the patient required no treatment apart from rest from swimming (to prevent possible, more serious complications) and the corresponding clinical and laboratory follow-up.
Article
These are the options to access the full texts of the publication Apunts Sports Medicine
Subscribe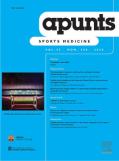 Subscribe to
Apunts Sports Medicine
Contact
Phone for subscriptions and reporting of errors
From Monday to Friday from 9 a.m. to 6 p.m. (GMT + 1) except for the months of July and August which will be from 9 a.m. to 3 p.m.
Calls from Spain
932 415 960
Calls from outside Spain
+34 932 415 960
Email