Soft tissue diseases of the locomotor apparatus are often a little known area of medicine and therefore poorly or insufficiently treated. Because of the lack of awareness of these diseases and their complications, they are often not diagnosed and are consequently left untreated. Affected patients will often visit a series of physicians, including psychiatrists, without receiving a clear diagnosis. Physicians should become better informed about these diseases and the possibilities of referral to specialists able to diagnose and treat these processes.
Article
These are the options to access the full texts of the publication Apunts Sports Medicine
Subscribe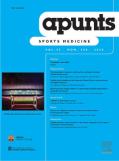 Subscribe to
Apunts Sports Medicine
Contact
Phone for subscriptions and reporting of errors
From Monday to Friday from 9 a.m. to 6 p.m. (GMT + 1) except for the months of July and August which will be from 9 a.m. to 3 p.m.
Calls from Spain
932 415 960
Calls from outside Spain
+34 932 415 960
Email